Managing irritable bowel syndrome: The low-FODMAP diet
Mohannad

Dugum

,

MD

,

Kathy

Barco

,

RD, LD, CNSC

and

Samita

Garg

,

MD
Cleveland Clinic Journal of Medicine
September 2016,
83
(9)
655-662;
DOI: https://doi.org/10.3949/ccjm.83a.14159
Registration is Now Required for Free Access to CCJM Content
Register once and log in for full access to articles and content. Click "Register" in the upper right corner and follow the simple instructions to create a new account.
If you are using a mobile device, click on the settings icon to access the Register link.
In this issue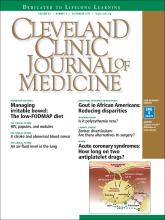 Related Articles
Cited By...
No citing articles found.
More in this TOC Section
Similar Articles